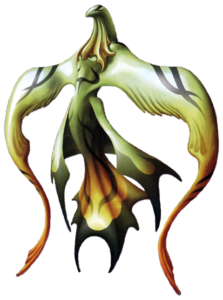 Quezacotl
Game: Final Fantasy VIII
Starting HP: 300
Found At: Access Squall's study panel from his desk in the classroom at Balamb Garden. Select the Tutorial option and Queszcotl will automatically be added to your GF inventory along with Shiva.
GF's Attack: Thunder Storm

Quezacotl's attack is elemental Thunder based. It's particularly good against any type of machine/robotic enemy.
One of Quezacotl's best abilities is the Card Mod. This ability enables you to refine items from cards, and makes it much easier to upgrade weapons and to teach

Quistis new types of

Blue Magic.
The Card Command ability is also useful at the beginning of the game. You starting deck is fairly weak, but the Card ability will enable you to immediately add some powerful Cards to your deck by changing enemies into cards.
Stats
| Level | HP | Atk. Power |
| --- | --- | --- |
| 1 | 300 | 275 |
| 10 | 754 | 572 |
| 20 | 1266 | 902 |
| 30 | 1786 | 1232 |
| 40 | 2314 | 1562 |
| 50 | 2850 | 1892 |
| 60 | 3394 | 2222 |
| 70 | 3949 | 2552 |
| 80 | 4506 | 2882 |
| 90 | 5074 | 3212 |
| 100 | 5650 | 3542 |
Ability List
| Ability | AP Needed | Leads To |
| --- | --- | --- |
| HP-J | 50 | N/A |
| Vit-J | 50 | Elem-Def-J |
| Mag-J | Learned | N/A |
| Elem-Atk-J | 160 | N/A |
| Elem-Def-J | 100 | Elem-Defx2 |
| Elem-Defx2 | 130 | N/A |
| Magic | Learned | N/A |
| GF | Learned | N/A |
| Draw | Learned | N/A |
| Item | Learned | N/A |
| Card | 40 | Card Mod |
| Mag+20% | 60 | Mag+40%, Elem-Atk-J |
| Mag+40% | 120 | N/A |
| SumMag+10% | 40 | SumMag+20% |
| SumMag+20% | 70 | SumMag+30% |
| SumMag+30% | 140 | N/A |
| GFHP+10% | 40 | GFHP+20% |
| GFHP+20% | 70 | N/A |
| Boost | 10 | N/A |
| T Mag-RF | 30 | Mid Mag-RF |
| Mid Mag-RF | 60 | N/A |
| Card Mod | 80 | N/A |
Default Character Compatibility