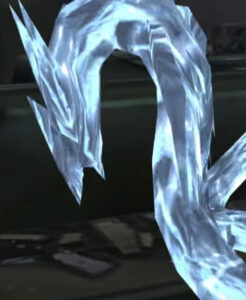 Leviathan
Game: Final Fantasy VIII
Starting Level: 17
Starting HP: 1349
Found At: Laviathan must be drawn from the Boss NORG during the battle at Balamb Garden (Disk Two)
GF's Attack: Tsunami

Leviathan's attack is elemental Water based. This is by far the strongest Water attack you'll find, so it comes in handy fighting the few creatures with a weakness to Water magic.
Without a doubt, Leviathan's most useful ability is Recover. It enables you to completely restore a single character's HP without using magic. Also, Leviathan cannot be silenced, so you can use the Recover ability at times when you wouldn't be able to use items or magic.
The Spr Bonus ability is also handy if you can get it at an early level. Equipping this on a low level character early in the game will give that character an extremely strong defense against magic later on.
Stats
| Level | HP | Atk. Power |
| --- | --- | --- |
| 17 | 1349 | 963 |
| 20 | 1546 | 1075 |
| 30 | 2206 | 1445 |
| 40 | 2847 | 1815 |
| 50 | 3550 | 2185 |
| 60 | 4234 | 2555 |
| 70 | 4926 | 2925 |
| 80 | 5626 | 3295 |
| 90 | 6334 | 3666 |
| 100 | 7050 | 4036 |
Ability List
| Ability | AP Needed | Leads To |
| --- | --- | --- |
| Spr-J | Learned | N/A |
| Magic | Learned | N/A |
| GF | Learned | N/A |
| Draw | Learned | N/A |
| Item | Learned | N/A |
| Mag-J | 50 | Elem-Atk-J |
| Elem-Atk-J | 160 | N/A |
| Elem-Defx2 | 130 | N/A |
| Recover | 200 | N/A |
| Spr+20% | 60 | Spr+40% |
| Spr+40% | 120 | Spr Bonus |
| Spr Bonus | 100 | N/A |
| Auto-Potion | 150 | N/A |
| SumMag+10% | 40 | SumMag+20% |
| SumMag+20% | 70 | SumMag+30% |
| SumMag+30% | 140 | N/A |
| GFHP+10% | 40 | GFHP+20% |
| GFHP+20% | 70 | GFHP+30% |
| GFHP+30% | 140 | N/A |
| Boost | 10 | N/A |
| Supt Mag-RF | 20 | GF Recov Med-RF |
| GF Recov Med-RF | 30 | N/A |
Default Character Compatibility