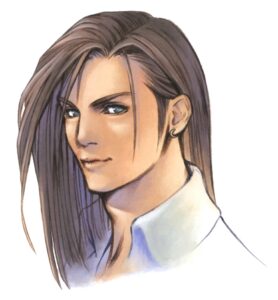 Laguna Loire
Game: Final Fantasy VIII
A passionate man whose pen is truly mightier than the sword.
Age:27
Height:5'9″
Birthday: January 3
Weapon: Machine Gun
Limit Break: Desperado
Laguna is an energetic man with a big heart. Although a bit of a klutz, he's a strong leader who inspires a great deal of loyalty and respect from those around him. His weapon of choice is a machine gun, which can fire multiple shots at enemies posing a threat to his party members. Although he dreams of someday starting a writing career, he's currently serving in the Galbadian Army.
Stats
| | | | | | | | |
| --- | --- | --- | --- | --- | --- | --- | --- |
| Level | Hit Points | Strength | Vitality | Magic | Spirit | Speed | Luck |
| 1 | 184 | 2 | 1 | 2 | 1 | 22 | 14 |
| 10 | 577 | 9 | 8 | 8 | 7 | 24 | 15 |
| 20 | 1005 | 16 | 14 | 15 | 13 | 25 | 15 |
| 30 | 1425 | 22 | 19 | 21 | 18 | 27 | 16 |
| 40 | 1838 | 28 | 24 | 26 | 22 | 28 | 17 |
| 50 | 2242 | 33 | 28 | 31 | 26 | 30 | 18 |
| 60 | 2639 | 37 | 32 | 35 | 29 | 31 | 18 |
| 70 | 3028 | 41 | 35 | 39 | 33 | 33 | 19 |
| 80 | 3410 | 44 | 37 | 42 | 34 | 34 | 20 |
| 90 | 3783 | 46 | 39 | 44 | 35 | 36 | 20 |
| 100 | 4148 | 48 | 41 | 46 | 36 | 37 | 21 |