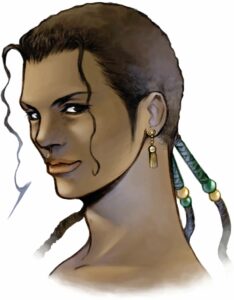 Kiros Seagill
Game: Final Fantasy VIII
One of Kiros' most distinguishing features are the sharp blades, called Katal, which he wears on both arms.
Age: 23
Height: 6'4″
Birthday: July 6
Weapon: Katal
Limit Break: Blood Pain
His fighting style is also unique, just like his weapon. He has a very caring personality and a sharp wit. Little is known about Kiros, except that he fights alongside

Laguna in Galbadia's Army.
Stats
| | | | | | | | |
| --- | --- | --- | --- | --- | --- | --- | --- |
| Level | Hit Points | Strength | Vitality | Magic | Spirit | Speed | Luck |
| 1 | 160 | 1 | 1 | 2 | 2 | 30 | 15 |
| 10 | 517 | 8 | 7 | 9 | 8 | 32 | 16 |
| 20 | 905 | 14 | 12 | 16 | 14 | 34 | 17 |
| 30 | 1285 | 20 | 16 | 23 | 20 | 36 | 18 |
| 40 | 1658 | 25 | 20 | 28 | 24 | 37 | 18 |
| 50 | 2022 | 30 | 24 | 34 | 29 | 39 | 19 |
| 60 | 2379 | 34 | 26 | 38 | 32 | 41 | 20 |
| 70 | 2728 | 37 | 28 | 42 | 35 | 42 | 21 |
| 80 | 3070 | 40 | 30 | 45 | 38 | 44 | 22 |
| 90 | 3403 | 42 | 31 | 48 | 40 | 46 | 23 |
| 100 | 3728 | 43 | 31 | 50 | 41 | 48 | 23 |