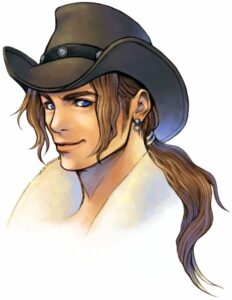 Irvine Kinneas
Game: Final Fantasy VIII
An expert gunman and consummate lady's man.
Age: 17
Height: 6'0″
Birthday: November 24
Weapon: Rifle
Limit Break: Shot
An expert marksman from Galbadia Garden, Irvine is known as the "Best shooter in Garden". His reputation for cherishing the company of women is almost as well known as his accuracy with a gun. Although he seems to be insensitive and frivolous at first glance, he is in reality, sensitive and serious.
Stats
| | | | | | | | |
| --- | --- | --- | --- | --- | --- | --- | --- |
| Level | Hit Points | Strength | Vitality | Magic | Spirit | Speed | Luck |
| 1 | 213 | 1 | 1 | 1 | 0 | 19 | 13 |
| 10 | 579 | 8 | 6 | 8 | 6 | 21 | 14 |
| 20 | 977 | 14 | 12 | 14 | 11 | 23 | 15 |
| 30 | 1367 | 20 | 16 | 20 | 15 | 25 | 15 |
| 40 | 1750 | 25 | 20 | 25 | 19 | 27 | 17 |
| 50 | 2124 | 30 | 23 | 30 | 22 | 29 | 17 |
| 60 | 2491 | 34 | 26 | 33 | 25 | 31 | 18 |
| 70 | 2850 | 37 | 28 | 36 | 27 | 33 | 19 |
| 80 | 3202 | 40 | 30 | 39 | 28 | 35 | 20 |
| 90 | 3545 | 43 | 31 | 41 | 28 | 37 | 21 |
| 100 | 3880 | 45 | 31 | 42 | 28 | 39 | 21 |