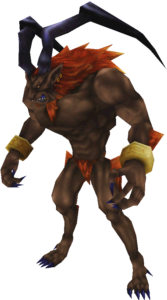 Ifrit
Game: Final Fantasy VIII
Starting HP: 305
Found At: Ifrit is located at the end of the Fire Cavern early in the game. You must defeat this GF before it will join you in battle.
GF's Attack: Hell Fire

Ifrit's attack is elemental Fire based. It's most effective against Ice elemental creatures.
Ifrit's HP-J ability is a must-have early in the game. This ability provides at least one of your characters with a solid HP base, which in turn gives you the stamina for long fights and the ability to resist powerful attacks.
The Str Bonus ability is great if you can learn it while your characters are sill at low levels. Each time a character equipped with the Str Bonus ability levels up, the Str Bonus ability increases that character's Strength by one point. If you equip it on one character long enough, that character will be a real powerhouse by the end of the game.
Stats
| Level | HP | Atk. Power |
| --- | --- | --- |
| 1 | 305 | 298 |
| 10 | 804 | 607 |
| 20 | 1366 | 950 |
| 30 | 1936 | 1239 |
| 40 | 2514 | 1636 |
| 50 | 3100 | 1980 |
| 60 | 3694 | 2323 |
| 70 | 4269 | 2666 |
| 80 | 4906 | 3009 |
| 90 | 5524 | 3352 |
| 100 | 6150 | 3695 |
Ability List
| Ability | AP Needed | Leads To |
| --- | --- | --- |
| HP-J | 50 | N/A |
| Str-J | Learned | N/A |
| Elem-Atk-J | Learned | N/A |
| Elem-Def-J | 100 | Elem-Defx2 |
| Elem-Defx2 | 130 | N/A |
| Magic | Learned | N/A |
| GF | Learned | N/A |
| Draw | Learned | N/A |
| Item | Learned | N/A |
| Mad Rush | 60 | (Gained at LV 10) |
| Str+20% | 60 | Str+40% |
| Str+40% | 120 | Str Bonus |
| Str Bonus | 100 | N/A |
| SumMag+10% | 40 | SumMag+20% |
| SumMag+20% | 70 | SumMag+30% |
| SumMag+30% | 140 | N/A |
| GFHP+10% | 40 | GFHP+20%/td> |
| GFHP+20% | 70 | GFHP+30% |
| GFHP+30% | 140 | N/A |
| Boost | 10 | N/A |
| F Mag-RF | 30 | N/A |
| Ammo-RF | 30 | (Gained at LV 10) |
Default Character Compatibility