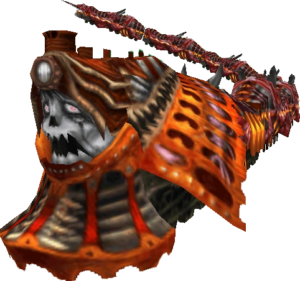 DoomTrain
Game: Final Fantasy VIII
Starting Level: 28
Starting HP: 2521
Found At: You can find a ring called the Solomon Ring at Tears' Point in Esthar. Also, you need to gather six of the following items: Malboro Tentacles, Remedy+, and Steel Pipes and use the ring. Doomtrain will accept the items and join your party. (First available during disc 3)
GF's Attack: Runaway Train

Doomtrain's attack is elemental Poison based. This makes it particlularly useful against human enemies, like Galbadian Soldiers. The attack also attampts to cause several abnormal effects including Poison, Darkness, Silence, Berserk, Sleep, Doom, Curse, Petrify, Confuse, and VIT 0. Sometimes it's worth casting even if the enemy is immune to or absorbs Poison damage just to inflict some of the abnormal statuses.
Doomtrain has four very useful abilities in Elem-Atk-J, ST-Atk-J, Elem-Def-Jx4, and ST-Def-Jx4. All of these are a bit hard to come by and to get them on a single GF is truly incredible. The Forbid Med-RF is great, but it is difficult to get the items for it. Junk Shop, on the other hand, is a bit more practical, but shouldn't really be a priority until Disc Four.
Stats
| Level | HP | Atk. Power |
| --- | --- | --- |
| 28 | 2521 | 1931 |
| 30 | 2686 | 2028 |
| 40 | 3514 | 2509 |
| 50 | 4350 | 2990 |
| 60 | 5194 | 3471 |
| 70 | 6046 | 1953 |
| 80 | 6906 | 4434 |
| 90 | 7774 | 4915 |
| 100 | 8650 | 5396 |
Ability List
| Ability | AP Needed | Leads To |
| --- | --- | --- |
| Elem-Atk-J | Learned | N/A |
| ST-Atk-J | Learned | N/A |
| Elem-Defx4 | 180 | N/A |
| ST-Def-Jx4 | 180 | N/A |
| Magic | Learned | N/A |
| GF | Learned | N/A |
| Draw | Learned | N/A |
| Item | Learned | N/A |
| Darkside | 100 | N/A |
| Absorb | 80 | N/A |
| Auto-Shell | 250 | N/A |
| SumMag+10% | 40 | SumMag+20% |
| SumMag+20% | 70 | SumMag+30% |
| SumMag+30% | 140 | SumMag+40% |
| SumMag+40% | 200 | N/A |
| GFHP+10% | 40 | GFHP+20% |
| GFHP+20% | 70 | GFHP+30% |
| GFHP+30% | 140 | GFHP+40% |
| GFHP+40% | 200 | N/A |
| Boost | 10 | N/A |
| Junk Shop | Learned | N/A |
| Forbid Med-RF | 200 | N/A |
Default Character Compatibility