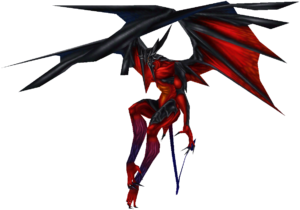 Diablos
Game: Final Fantasy VIII
Starting Level: 9
Starting HP: 730
Found At: Speak with Headmaster Cid before leaving for Timber and he'll give you a cursed Magical Lamp. Use the lamp in your inventory, and you'll get teleported into battle against Diablos. You must defeat Diablos before it will join your party.
GF's Attack: Dark Messenger

Diablos' non-elemental attack may not seem like much at the start. You can expect it to cause less than 100 points of damage to most creatures when you first get Diablos. After the GF gets some experience, its attack quickly becomes one of the most lethal attacks in the game. There are a lot of enemies that are immune to Diablos' attack.
Mug is one of the best abilities in the entire game. This ability enables you to steal useful and, oftentimes, rare items from your enemies. Until you gain this ability, you'll never truly appreciate its usefulness. With it, you can upgrade weapons faster, teach Guardian Forces rare abilities, and create hard-to-find magic and items though refining.
Diablos' Abilityx3 ability is also useful. It enables a character to equip three GF abilities instead of the normal two.
Stats
| Level | HP | Atk. Power |
| --- | --- | --- |
| 9 | 730 | 9% of opponents Max HP |
| 10 | 784 | 10% of opponents Max HP |
| 20 | 1326 | 20% of opponents Max HP |
| 30 | 1876 | 30% of opponents Max HP |
| 40 | 2434 | 40% of opponents Max HP |
| 50 | 3000 | 50% of opponents Max HP |
| 60 | 3574 | 60% of opponents Max HP |
| 70 | 4156 | 70% of opponents Max HP |
| 80 | 4746 | 80% of opponents Max HP |
| 90 | 5344 | 90% of opponents Max HP |
| 100 | 5950 | 100% of opponents Max HP |
Ability List
| Ability | AP Needed | Leads To |
| --- | --- | --- |
| HP-J | 50 | HP+20% |
| Mag-J | Learned | N/A |
| Hit-J | 120 | N/A |
| Abilityx3 | Learned | N/A |
| Magic | Learned | N/A |
| GF | Learned | N/A |
| Draw | Learned | N/A |
| Item | Learned | N/A |
| Dark | 100 | N/A |
| HP+20% | 60 | HP+40% |
| HP+40% | 120 | HP+80% |
| HP+80% | 240 | N/A |
| Mag+20% | 60 | Mag+40% |
| Mag+40% | 120 | N/A |
| Mug | 200 | N/A |
| Enc-Half | 30 | Enc-None |
| Enc-None | 100 | N/A |
| GFHP+10% | 40 | GFHP+20% |
| GFHP+20% | 70 | GHP+30% |
| GFHP+30% | 140 | N/A |
| Time Mag-RF | 30 | N/A |
| ST Mag-RF | 30 | N/A |
Default Character Compatibility