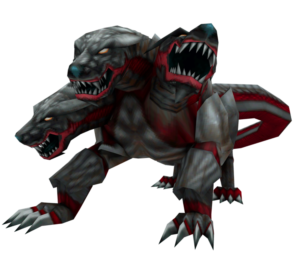 Cerberus
Game: Final Fantasy VIII
Starting Level: 23
Starting HP: 1490
Found At: You can challenge Cerberus while you're in the main hall of Galbadia Garden (Disc Two). You must defeat Cerberus before it will join you.
GF's Attack: Counter Rockets

This isn't actually an attack, but it does cast Double and Triple magic on your entire party. This is handy, but you'll want to get the GF's compatibility up so that Cerberus arraves quickly at the beginning of a battle.
Cerberus various Junction abilities enable you to raise a variety of statistics. The ST-Atk-J and ST-Def-Jx4 abilities also enable you to cause havoc on the enemy with sneaky abnormal status attacks, while keeping the Junctioned

character nearly impervious to abnormal statuses. Add on the speed boosting abilities, and it's hard to find a better

GF.
Stats
| Level | HP |
| --- | --- |
| 23 | 1490 |
| 30 | 1876 |
| 40 | 2434 |
| 50 | 3000 |
| 60 | 3574 |
| 70 | 4156 |
| 80 | 4746 |
| 90 | 5344 |
| 100 | 5950 |
Ability List
| Ability | AP Needed | Leads To |
| --- | --- | --- |
| Str-J | Learned | N/A |
| Mag-J | 50 | ST-Atk-J |
| Spr-J | 50 | ST-Def-J |
| Spd-J | 120 | Spd+20% |
| Hit-J | Learned | N/A |
| ST-Atk-J | 160 | N/A |
| ST-Def-J | 100 | ST-Def-Jx2 |
| ST-Def-Jx2 | 130 | ST-Def-Jx4 |
| ST-Def-Jx4 | 180 | N/A |
| Abilityx3 | Learned | N/A |
| Magic | Learned | N/A |
| GF | Learned | N/A |
| Draw | Learned | N/A |
| Item | Learned | N/A |
| Spd+20% | 150 | Spd+40% |
| Spd+40% | 200 | Auto-Haste |
| Auto-Haste | 250 | N/A |
| Expendx2-1 | 250 | N/A |
| Alert | 200 | N/A |
| GFHP+10% | 40 | GFHP+20% |
| GFHP+20% | 70 | GFHP+30% |
| GFHP+30% | 140 | N/A |
Default Character Compatibility