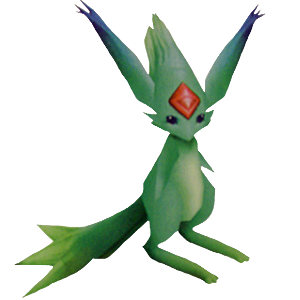 Carbuncle
Game: Final Fantasy VIII
Starting Level: 16
Starting HP: 1220
Found At: You must draw Carbuncle during the Boss fight with the Iguions (Disk One).
GF's Attack: Ruby Light

Carbuncle doesn't actually attack the enemy. Instead, it casts Reflect on your entire party. This is a handy defensive maneuver, and is usually available before Reflect or Triple magic begins to appear.
Carbuncle's most valuable abilities are ST-Atk-J, ST-Def-J and Abilityx3. All three abilities are somewhat rare and extremely useful under any conditions, just as they are with Diablos and Siren.
The Vit Bonus and Counter abilities are also worthwhile. The Vit Bonus increases a Junctioned character's Vitality by one point each time the character levels up. This enables you to create a character with a powerful defense against physical attacks. Counter gives your chracter the chance to randomly counter-attack an enemy when attacked.
Stats
| Level | HP |
| --- | --- |
| 16 | 1220 |
| 20 | 1326 |
| 30 | 2086 |
| 40 | 2714 |
| 50 | 3350 |
| 60 | 3994 |
| 70 | 4646 |
| 80 | 5306 |
| 90 | 5974 |
| 100 | 6650 |
Ability List
| Ability | AP Needed | Leads To |
| --- | --- | --- |
| HP-J | 50 | HP+20% |
| Vit-J | Learned | N/A |
| Mag-J | 50 | N/A |
| ST-Atk-J | 160 | N/A |
| ST-Def-J | 100 | ST-Def-Jx2 |
| ST-Def-Jx2 | 130 | N/A |
| Abilityx3 | Learned | N/A |
| Magic | Learned | N/A |
| GF | Learned | N/A |
| Draw | Learned | N/A |
| Item | Learned | N/A |
| HP+20% | 60 | HP+40% |
| HP+40% | 120 | N/A |
| Vit+20% | 60 | Vit+40% |
| Vit+40% | 120 | Vit Bonus |
| Vit Bonus | 100 | N/A |
| Counter | 200 | Auto-Reflect |
| Auto-Reflect | 250 | N/A |
| GFHP+10% | 40 | GFHP+20% |
| GFHP+20% | 70 | GFHP+30% |
| GFHP+30% | 140 | N/A |
| Recov Med-RF | 30 | N/A |
Default Character Compatibility