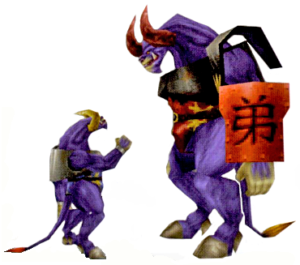 Brothers
Game: Final Fantasy VIII
Starting Level: 7
Starting HP: 670
Found At: The Brothers GF is located in the Tomb of the Unknown King. You must defeat one of the minotaur brothers (Sacred) first, and then defeat the two of them together to have them join you.
GF's Attack: Brotherly Love

The Brothers' attack is elemental Earth based. This makes the attack worthless against flying creatures, because those types of creatures don't touch the ground.
The Brothers' HP+ and HP Bonus abilities are great to have at any time. Of course, the earlier you get the HP Bonus ability the better, because the character equipped with this ability gains 30 extra HP each time he/she levels up. Defend is an underrated ability that enables you to avoid damage from any attack, however, you'll probably want to pass it up for other useful abilities.
Stats
| Level | HP | Atk. Power |
| --- | --- | --- |
| 7 | 670 | 529 |
| 10 | 824 | 632 |
| 20 | 1406 | 977 |
| 30 | 1996 | 1322 |
| 40 | 2594 | 1667 |
| 50 | 3200 | 2012 |
| 60 | 3814 | 2357 |
| 70 | 4436 | 2702 |
| 80 | 5066 | 3047 |
| 90 | 5704 | 33092 |
| 100 | 6350 | 3737 |
Ability List
| Ability | AP Needed | Leads To |
| --- | --- | --- |
| HP-J | Learned | – |
| Str-J | 50 | Elem-Atk-J |
| Spr-J | 50 | Elem-Def-J |
| Elem-Atk-J | 160 | – |
| Elem-Def-J | 100 | – |
| Magic | Learned | – |
| GF | Learned | – |
| Draw | Learned | – |
| Item | Learned | – |
| Defend | 100 | – |
| HP+20% | Learned | – |
| HP+40% | 120 | HP+80% |
| HP+80% | 240 | HP Bonus |
| Cover | 100 | – |
| HP Bonus | 100 | – |
| SumMag+10% | 40 | SumMag+20% |
| SumMag+20% | 70 | SumMag+30% |
| SumMag+30% | 140 | – |
| GFHP+10% | 40 | GFHP+20% |
| GFHP+20% | 70 | GFHP+30% |
| GFHP+30% | 140 | – |
| Boost | 10 | – |
Default Character Compatibility