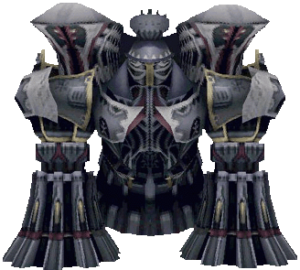 Alexander
Game: Final Fantasy VIII
Starting Level: 23
Starting HP: 1925
Found At: You must draw Alexander from Edea during the Boss fight inside Galbadia Garden (Disc Two).
GF's Attack: Holy Judgement

Alexander's attack is elemental Holy based. It's extremely effective against the undead or creatures affected with Zombie. This attack isn't very powerful at first, but if you put time into building up Alexander, you can make good use of its attack by Junctioning Zombie magic to a character's weapon using the Status Attack Junction ability. Basically, this enables you to force an elemental weakness onto an enemy.
The Med LV Up ability may not seem like much, but you'll probably need it for the UFO Side Quest and to use the Solomon Ring. Alexander's Revive ability is great during later parts of the game, like the fight with Ultima Weapon. This ability enables you to quickly revive and cure a K.O.'ed character.
The Elem-Def-Jx4 is also a great ability, but it may take you a while to get it. I suggest putting it off until you've earned the 200AP necessary to learn the Revive ability.
Stats
| Level | HP | Atk. Power |
| --- | --- | --- |
| 25 | 1925 | 1350 |
| 30 | 2266 | 1542 |
| 40 | 2954 | 1920 |
| 50 | 3650 | 2298 |
| 60 | 4354 | 2676 |
| 70 | 5066 | 3054 |
| 80 | 5786 | 3432 |
| 90 | 6514 | 3810 |
| 100 | 7250 | 4188 |
Ability List
| Ability | AP Needed | Leads To |
| --- | --- | --- |
| Spr-J | Learned | N/A |
| Elem-Atk-J | 160 | N/A |
| Elem-Defx2 | Learned | N/A |
| Elem-Defx4 | 180 | N/A |
| Abilityx3 | Learned | N/A |
| Magic | Learned | N/A |
| GF | Learned | N/A |
| Draw | Learned | N/A |
| Item | Learned | N/A |
| Revive | 200 | N/A |
| Spr+20% | 60 | Spr+40% |
| Spr+40% | 120 | N/A |
| Med Data | 200 | Med LV Up |
| SumMag+10% | 40 | SumMag+20% |
| SumMag+20% | 70 | SumMag+30% |
| SumMag+30% | 140 | N/A |
| GFHP+10% | 40 | GFHP+20% |
| GFHP+20% | 70 | GFHP+30% |
| GFHP+30% | 140 | N/A |
| Boost | 10 | N/A |
| High Mag-RF | 60 | N/A |
| Med LV Up | 120 | N/A |
Default Character Compatibility